Packing and Unpacking Round Rock
Should You Use Professional Packing and Unpacking Services?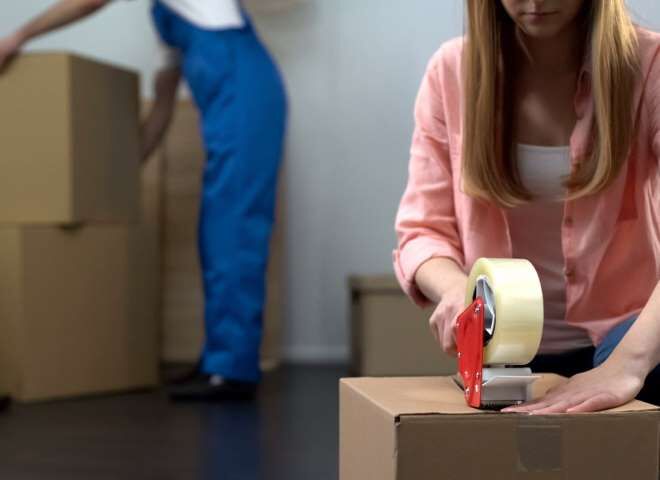 When you find a new home that you can't wait to move into, all the daydreaming is fun until the reality of having to pack and move all your belongings slaps you in the face. As you look around your home, you realize how much stuff you have and how complicated it will be to pack it all.
Packing is much more than a simple physical task. It takes organization, problem-solving, and experience to be done right. Don't let the stress of packing up your home overwhelm you when it's time to relocate. Hire an experienced moving company in Round Rock, like Valet Moving Services, to help you pack and unpack your home or office.
REQUEST A QUOTE to hire the best Round Rock movers!
HIRING A PACKING SERVICE IN ROUND ROCK IS EASIER THAN DIY
Moving is one of the most stressful processes a person can go through in life. It can be chaos that most people don't have the time or energy to handle on their own.
Hiring a company with residential moving services that offer a packing service to help you get your things from point A to point B isn't only way easier than trying to do it all yourself and safer. You can leave all the heavy lifting to an efficient team of Round Rock movers.
Where to Find the Most Reliable Round Rock Moving Company
Valet Moving Services has an experienced team of Round Rock professionals dedicated to providing reliable services throughout the packing process. Each member has the knowledge and supplies to pack everything from delicate items to valuable electronics and the most significant, most awkward pieces of furniture.
We are trained to look at a room and organize it most safely and efficiently to ensure that your belongings don't get damaged in the process of moving.
Why Hiring Round Rock Movers Is Better
If you don't have the proper training and experience, you can easily pack things so that delicate and valuable items might break during the move. Spending the extra money on a packing and unpacking service can save you a lot of money in the long run because you won't have to worry about replacing valuable items after the move.
We are dedicated to giving excellent service that will complete your local move in record time. When our moving truck arrives at the new location, you can relax as our Round Rock movers handle unloading and unpacking.
Contact our moving company branches in Round Rock, TX, Austin, TX, and Cedar Park, TX, for your packing and unpacking needs. Round Rock residents can rely on local moves across the city, from Old Settlers Park to Dell Diamond and beyond! No matter the new location, we are committed to ensuring your house, apartment, or office move is as hassle-free and smooth as possible.
WHAT MAKES OUR ROUND ROCK PACKING SERVICES THE BEST
Our family-owned company has been providing full-service packing and moving solutions to Texas for many years. We work hard to keep our excellent reputation and strive hard to make previous, current, and future customers our customers for life.
We are licensed and insured as required by the state of Texas. We believe that our team is our greatest asset for making our customers happy, which is why we never hire day laborers to get the job done.
Our Round Rock Packing Services Aren't Just for a Local Move!
Our local movers also provide commercial moving services. Whether you're a family-owned business or need to move your work equipment into long-term storage, our one-stop shop moving company is ready to provide excellent and reliable service.
What Makes Our Round Rock Movers Trustworthy?
We are true professionals in our field and ensure that each person on our team has a passion for moving and enjoys their line of work. We also vet each person on our team to ensure they have never been involved in or accused of theft or professional misconduct.
Each qualified Round Rock mover is trained to offer packing services with the utmost care and attention. They are committed to giving you a positive experience throughout our stress-free moving process.
Whether you're looking to pack unique and valuable items like fine artwork or a grandfather clock or want your entire home packed and unpacked by an intra-state moving company, we are equipped and well-prepared to handle any packing situation.
HOW MUCH DO PACKING SERVICES COST IN ROUND ROCK?
The cost of packing and unpacking services will vary depending on several factors. When determining the cost of services, we consider things like:
How many professionals will be required to get the job done in a safe and timely manner?
How much and what type of materials will be required to pack everything?
How much additional work will be involved, such as disassembling and reassembling furniture?
How far do you need to move your things?
What Is Included in Our Professional Moving Services?
We have all the materials required to perform any size and type of packing job well. We are equipped with boxes, crates, premium moving pads, bubble wrap, shrink wrap, packing paper, fully-equipped toolsets, and anything else we may need to get the job done. We also supply moving boxes at wholesale prices.
Contact the Best Round Rock Moving Company
If you need anything packed, unpacked, or moved within the Greater Austin area or Central Texas region, contact us today to see how we can help. We'll be happy to assess your situation and provide you with a personalized quote.